She's going the distance!
Has anyone made a social distance-themed playlist yet? Taking the Long Way Around by the Dixie Chicks? Dreaming of You by Selena? And this, which I haven't thought about since 1996:
I did see this:
In times like these*
*not sure I've lived through times like these.
…I do appreciate anything that forces me to pause and marvel at folks' creativity. There's the musician who might start holding virtual singing-songwriting circles and the friends who've already figured out online karaoke. The Girl Scout in Chicago making home deliveries the other night. There are instructors pooling not just pedagogical tips but philosophical perspectives: Humanizing Online Teaching (gdoc); Please do a bad job of putting your courses online (Rebecca Barrett-Fox).
And there are those who've been telling us all along. Those who have been one anothers' medics. Those who have the community organizing infrastructure in place to offer "Senior Viral Response" in Chicago right now. The On Being team, who pulled together a "care package" of podcasts, and those who've been meditating for years about how to survive the end of the world.
From adrienne maree brown's blog post On Rushing Toward Apocalypse (with Aja Taylor):
Aja: This could be the very apocalypse we've been waiting for.

Apocalypse. Rooted in the Greek words "apo," meaning "un," and "kaluptein," meaning "to cover," apocalypse is generally regarded as something terrifying and negative. A life ending event. But as my Emergent Strategy "Creating New Possibilities" group explored this past summer in the Emergent Strategy Ideation Institute, what if apocalypse was indeed an ending – but to all of the things we actually needed to end in order to sustain life on this planet?
…
adrienne maree brown: i know there is tragedy here, unfolding, the scale of which we cannot, will never, measure in terms of heartache. but i'm also aware of us moving towards things we have needed to move towards. how do we widen the space within us for the grief and wonder? fear and vision? the surrender, and the creativity, the relief, the humor, the possibility?

this is an opportunity to stop trying to 'cling to the shore,' as the hopi elder prophesied. say the shore is our crisis level individualism, and the river is interdependence. we don't really know what intentional post-capitalist interdependence looks like at our current national, much less global, scale. it's still time to push off, go forward, into that unknown, holding each other, in pairs, in circles.
Image: We spotted the first crocus of the spring yesterday!
Things to read or hear
In tomorrow night's Dandelions, we're playing with format and offering some things for folks who need Covid-19 resources, yes, but also a section of unrelated links for those who need a respite.
In a similar spirit, here are a ton of links I've been stockpiling (oops) over the past few months. I have only a few minutes left to do the thousand work tasks I meant to do while my child naps, so I'm not going to overthink them or fuss with the order as I typically would.
"There is nothing about pleasure that makes me feel guilty."
That quote is from Cheryl Strayed, here (NYT). As a tween I'd go into the New Carrollton library, grab some racy romance novels as fast as I could, stack them between the formulaic BSC books I also/still loved, and avoid eye contact with my mom and the librarian when we checked out. What Makes the Baby-Sitters Club Endure? (Bookriot) and https://www.themarysue.com/baby-sitters-club-casting-news/ (full disclosure, my sister is on the casting team so I am going to share everything about this show even if Netflix is hella capitalizing on coronavirus by—I hope, I hope—bumping up the release date!!!)

I've Lost My Sense of Magic (¡Hola Papi!). What rituals do you actually practice in your life? (And is your answer different today than it was a few weeks ago?) Hit reply and maybe I'll share some answers in a future issue.
Some recipes
Again, I haven't re-vetted this with "apolocalypse pantry" in mind, but maybe they'll inspire some creativity in your kitchen in the coming weeks.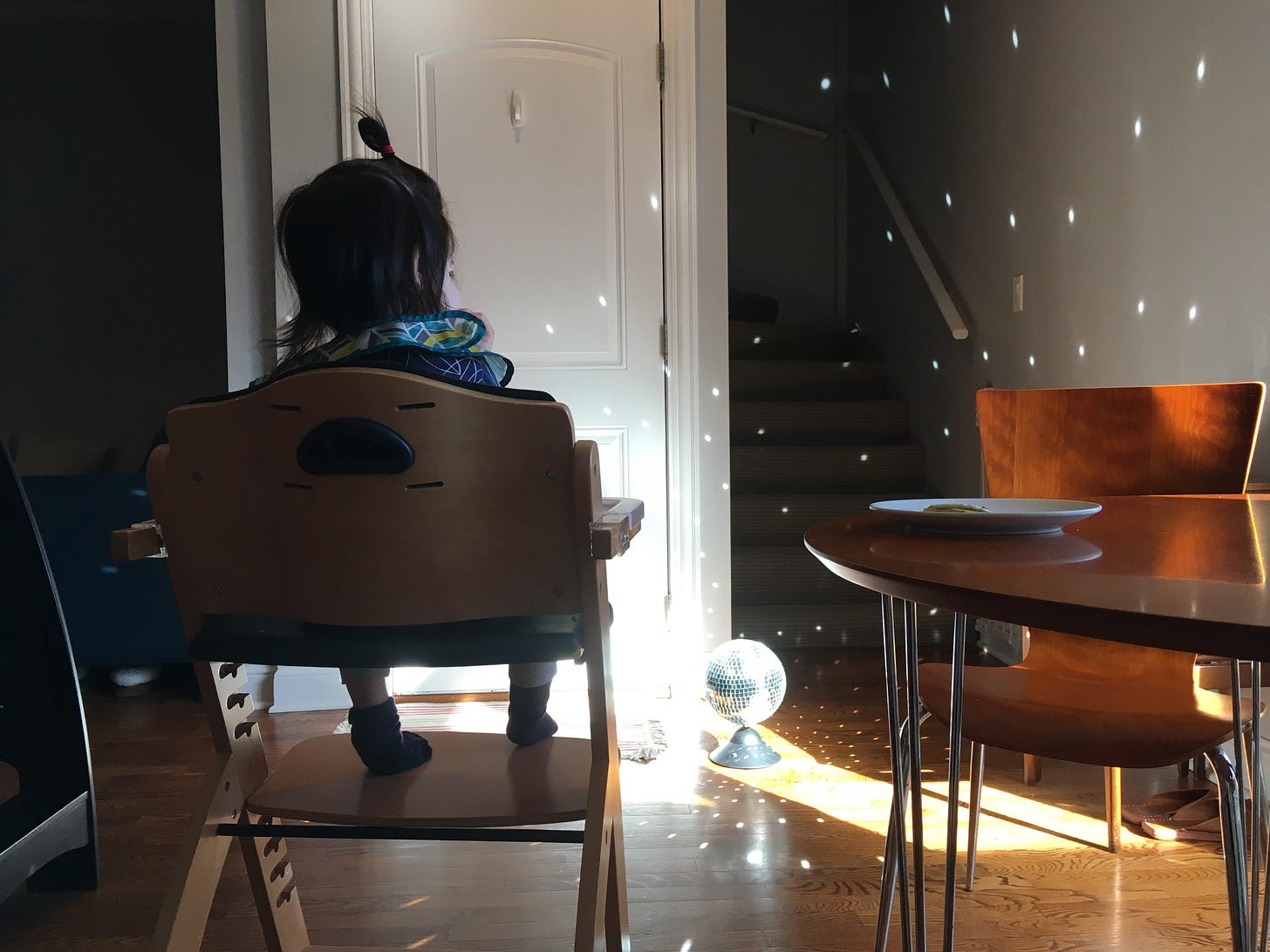 Pic: Yesterday I found an old disco ball in the closet and set it up after my 2yo's nap. Silver linings of self-quarantine.
I love you!
Wash your hands. Schedule a video chat with your favorite friend. Maybe agree to cook and eat the same-ish meal, read an article from the list above and discuss it. Practice social distance but not isolation.
And VOTE if you haven't yet and you can, please. Please.
I'm not even sending myself a preview of this.
Thanks for reading.