Week 24: Roses and violets, glitter and glue
Hey subscriber buddies, I really love you!
Something about me that I feel is off-brand is the fact that I've barely watched any Parks and Rec. I only sort of know what we're talking about when we mark Galentine's Day. I don't know why I'm even typing this right now. Why am I not watching that episode? Anyway, it's February 13th, thanks for being you, thanks for being here, thanks for sharing this newsletter with your pals…just thanks. My gifts to you:
TV to watch with someone you like or love (including and especially your solo self)
Roses are red,
Hootie's name is Darius,
I'm late to this party:
Schitt's Creek is hilarious
My mom and I tried watching Russian Doll a few nights ago and it was NOT what we needed. We needed funny. So we watched Schitt's Creek instead. Are you into the Eugene Levy/Catherine O'Hara brand of humor? Get on board this train if you're not already. (Buzzfeed link; find the show on Netflix)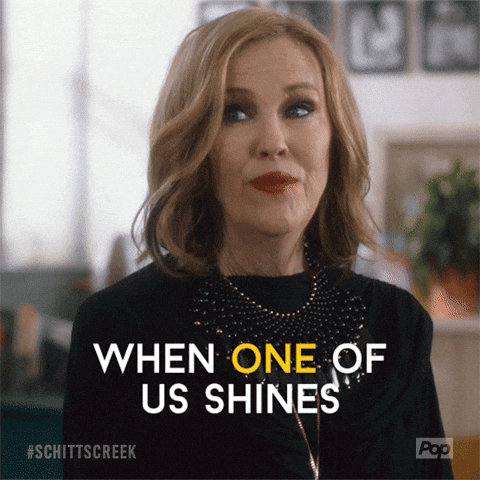 Yellow's the lemon
Green is the lime
Please, everyone, binge
One Day at a Time!
A year ago right now, this was my life: attempt to nurse baby, hand her over to other people to play with and diaper her and give her bottles during her brief wake windows, retreat to bedroom and pump alone. But usually I wasn't alone, because I brought Mary Berry, Mrs. Maisel, or this impeccable cast along for company. I'm pretty sure it wasn't just the hormones that made me lol-weep at the end of every episode. Janine Brito (a writer on the show and a fellow Wash U '05 alum!) explains in this brief Instagram slideshow why a binge soon after the season is released can make a huge difference.
Treats to cook and bake
I didn't include any recipes last week, and I heard about it! So here are a bunch.
Two easy, tried-and-true standbys that I always end up shoveling in my mouth while standing at the stove:
One-pot farro (Smitten Kitchen)

This corn (The Wednesday Chef) - I usually save it for summer, but she says it'll work with frozen corn too
Still not hard, but a few more steps:
Here are some things I would bake for my galentines if I had unlimited time, energy, ingredients/budget, and a delivery fairy:
Tell someone you love them because it's a day that ends with "y,"
JCS
Images: Emily McDowell's Instagram, gifs via Giphy
Did a friend send you this email? If you like it, you can subscribe at julia.substack.com. This is email #24 of 35 planned for this experiment in getting and staying un-stuck.